I have never heard any body ever say my pond is way to deep can we hire Schlicht Excavating to come fill it in. A couple variables come into play with fish pond depth.
*Cost of digging pond real deep
*Slope stability
*Is there a winter freeze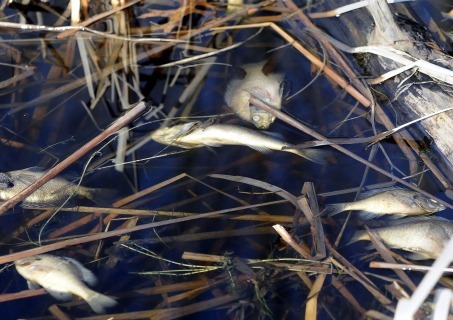 COST
Everyone wants a pond super deep. However, the average pond we dig is 12' deep throughout and depending on the size at least one area 15' deep. If the pond is large enough, say 1 acre we can dig a couple holes in the pond 15" to 20' deep and maybe 25' round. This is only done to save on the cost of the pond. Or we can just dig 25' strait though the entire pond. By not going the deepest depth through the whole pond you will be saving around 15,000 yards of material that need not be moved.
If you take a one acre pond 200' x 200' and dig 10' deep you come up with approx. 15,000 yards of material. Every depth below that in 1' increments equals approx. 1,500 more yards of dirt that need be moved. And could cost up to 2,500 more to dig. So a lot of times digging some of the pond 8' to 12' deep to keep the weeds down and then punch in a few holes of greater depth to save on cost, and still have winter survival of fish here in MI.
POND EDGES
If your pond has sandy slopes or a swampy much edge than a small pond 100' x 100' will probably not hold a 15' depth for fish survival. You may dig the pond to a depth of 20' while excavation is being done, but over time the slopes will start falling into the greater depths and fill in, over couple year's time. To achieve a greater depth with these soil conditions a larger pond may be needed. Clay sides will provide great depth in small ponds.
WINTER FREEZE
Winter freeze is the main killer of fish. It's not that the fish actually freeze in the ice, they just get robbed over there oxygen. An average Michigan pond ice can reach 12'' thick and ad some inches of snow onto that and sunlight will be prevented from penetrating. If your pond is shallow, the lack of sunlight will cause the plants to die. As a result, the decomposition of aquatic vegetation will deplete oxygen from the water reducing photosynthesis and your fish will die.
Scott Schlicht
810-845-6070