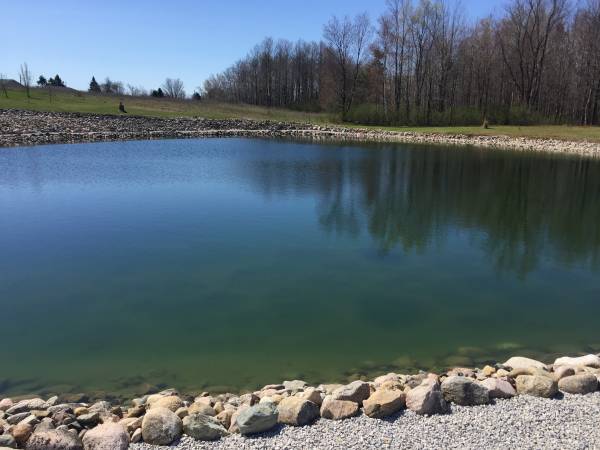 Top 10 Reasons To Choose A Local Pond
And Lake Dredging Company.
We are the biggest in Michigan.
Your choice costs less. We are really good at what we do. Over the last 10 years we have mastered the art of pond excavating and renovation. We've spent so much time digging we are very efficient and can pass savings onto the customer.
Peace of mind. When you hire Schlicht Pond's you get the peace of mind that we are going to arrive when we say we will, and you will get a professional job done. Don't let the other contractor tell you anyone can dig a pond, this is not true and we do not want you to findout the hard way.
We have the right tools for the job. We have the biggest fleet of equipment in Michigan that is used for pond and dredging services only. With 7 excavators we have one to fit any size job. We are the only contractor in Michigan that owns a 60' long reach excavator and a Dino six dredging system. This means there is no pond or lake dredging job too big or too small for us.
Your choice is licensed and insured. Our company is licensed and insured in the state of Michigan.
Your choice is for the future. We dig our ponds to last. With our experience your pond will be dug to the best specs for longevity. We will insure the correct depth, correct slope, correct spoil location, and correct pond site location, ect. Our local company is here to stay for the next generation. Because it is family owned and operated, it will serve you well with the same people for years to come.
Your choice knows your investment. We will work with you and take all your ideas and combine them with our experience, to archive a lifetime of memories for your family.
Your choice is Schlicht Ponds. We work hard to make your dreams a reality, and add value to your property for everyone to enjoy.

Permits. We will check on your permits and let you know what will be needed. We also can pull all needed permits. If you are our customer, we do not charge to pull county or township permits, you are only responsible to pay the fees and for sesc measures. We do charge to pull the permit from the State of Michigan but you only need one if you are digging in over 5 acres of continuous wetlands or if you are in or within 500' of a waterway, such as a drain, lake, river, stream etc Before you hire the other guy, ask yourself did they even mention any permits that may be needed?

Ponds. Ponds and dredging is all we do, we will not dig your basement, install driveway, septic's, ect. Unlike the other guys that are jacks of all trades excavators. We spend all of our time and resources on pond and lake excavating only. Ponds are what we love and that is why we dedicated all of our resources to ponds. Not just any company is capable of digging or cleaning out your pond. You would not believe how many ponds we have fixed over the years, when they where not dug properly the first time. Money you spend to get the pond cleaned out the first time incorrect is just money lost. Hire the best first. We thank you in advance for choosing Schlicht Ponds.
We have seen just about every scenario when it comes to ponds and lakes. Don't let the inexperienced practice on your site. We are your pond company, we've been there. Let us help guide you.