Purchase and Install Your Galvanized Windmill Pond Aeration System From Us!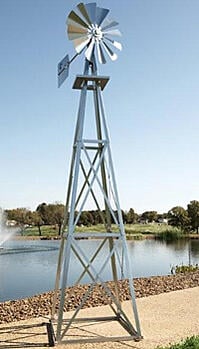 Wind-powered aerator.
New patent pending "BalCam Technology that minmizes bearing fatigue
73" Head turns at low wind speeds
Redesigned blades and front dome assembly for better air flow
Self-governing head to protect the unit in high winds
New secure locking mechanism that attaches the windmill head to shaft
Larger check valves and upgraded ½" airline to handle the increased air that is produced
High Air Output - 3.0-4.5 CFM rating rated at 30 psi
Full 5 year warranty on the compressor bearing's and cam's!
Our Windmill Aeration Systems, have been designed and built to offer farmers and others a very effective, low maintenance alternative to keeping their water clean while at the same time saving money, energy, and a small piece of our planet's most valuable resource - WATER and its wildlife.
Feel free to compare our units to others on the market. You'll find we offer the best overall package by providing the most air, most pressure and the longest warranty available on the compressor (which is the most important component on your windmill).
Proudly Made in the U.S.A.!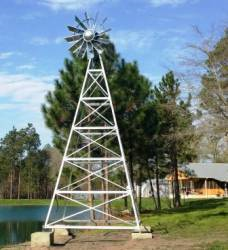 Shlicht Ponds is proud to offer 2 different lines of AerMaster™ Electric Aeratorsfor all of your pond aeration or lake aeration needs. Each product line is different depending on your pond or lake situation. All provide oxygen for bottom aeration or bottom diffused aeration which helps eliminate stratification, algae, odor and fish kills. We manufacture pond aerators for many purposes including algae control and all carry a full 2 year warranty!
Shallow Pond Electric Aerators
Great for shallow ponds, lagoons, septic tanks or other places where you need aeration and are looking for the most affordable way to get it. These systems utilize a Linear Diaphragm compressor to aerate ponds up to 8 or 10' deep at their deepest point. We offer three options here ranging from 1.5 CFM to 7.0 CFM. These are affordable pond aeration systems which can help clean ponds as long as their not over 10' deep.
Deep Pond Electric Aerators
These systems can provide pond aeration or lake aeration on waters ranging from 3' up to 30' or even 40' deep. We offer 7 different models ranging from 1/4 hp up to 3/4 hp. All are mounted inside of a powder coated steel cabinet with circulating fans, 115v plug in's and offering a 2 year warranty. These are high quality systems that work great!
If your pond is deeper than 8', then you should take a look at our new line of AerMaster Pro™ Series Electric Aerators. This is the ideal compressor for deeper ponds.
Key Features Include:
Maximum pressure up to 50 psi allowing you to aerate 10', 20', 30' or even 40' deep ponds or lakes
Oil-less piston and cylinder for less maintenance
Permanently lubricated sealed bearings
Die-Cast Aluminum components
Cylinder hard coated for less wear
Balanced components for smooth, low vibration operation.
In addition, each of these rocking piston compressors comes in a nice, attractive powder coated steel cabinet that can be mounted to a post, wall or on the ground with the included adjustable feet. They also have a lock to keep people out and include either one or two recirculating fans. These systems all carry a 2 year warranty and are designed to operate maintenance free.
Our AerMaster™ Pro 1, 2 & 3 aerators all have a 1/4 hp High Output Compressor and are great for ponds up to 1.5 acres. Accessories vary by model.
Our AerMaster Pro 5 & 6 aerators have a 1/2 hp High Output Compressor are great on ponds up to about 2.5 acres.
Lastly, our AerMaster Pro 8 & 9 aeratrors have a 3/4 hp HIgh Output Compressor and can aerate 3-4+ acre ponds or lakes depending on depth and configuration